The Last First Date
Posted by Leticia, 14 Aug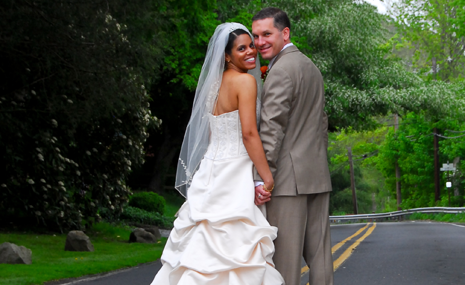 Today, Tiffany is a happily married woman. But not too long ago, she was sitting right where you are. Staring at a computer screen, hoping she wouldn't be single for the rest of her life!
"Don't give up," Tiffany exhorts the millions of online daters out there. "I had many bad experiences dating online, but I kept praying and I tried as hard as I could! My father told me, "He's coming," and encouraged me to keep looking. Good thing I did not give up — you shouldn't either!"
Find your soulmate on InterracialDating.com










It all started when Tiffany relocated to somewhere she had no existing ties. "I moved to a new town and wanted to meet new people," she explains. Was this her first go-round on the online carousel? "No, your site was not my first online dating experience," she tells us. "I know someone who had success with online dating, so I decided to give it a try. Thank you for being a huge part of me meeting my husband!"
To be sure, not everyone Tiffany met on the Internet was the keeper Jason turned out to be. "I had some bad experiences," she admits. "So I was not confident at all. But I kept my fingers crossed!"
Jason wasn't a first-timer, either. By this point, he says he was "skeptical." Still, less than two months after joining our site, "HappyBee121" (Tiffany) met "Ja25" (Jason). He'd only logged three months as a member when he spotted her profile. "Tiffany is adorable," Jason says, explaining his decision to reach out.
"Jason sent me a Flirt first, and I immediately responded," Tiffany recalls. Her first impression of his profile was that he was "extremely sexy." To expand on that, she says "Jason's eyes drew me in and his sexy voice kept me on the phone for hours."
Their connection convinced the duo that they were ready for a date. "We emailed for a week, then spoke daily on the phone for two weeks before we met," Tiffany remembers. "I felt comfortable meeting him in person after our wonderful phone calls."
Jason tells us how it went. "Tiffany suggested our meeting," he says. His first thought on seeing her was, "Wow, she is beautiful!" However, he was a little less impressed with his date's driving skills… "We were in New Jersey, and she could not figure out how to make a left turn," Jason laughs.
Tiffany looks back on the moment they met and remembers her first thought: "Oh boy... I'm in trouble!" That being said, "he is a true gentleman," she assures us.
After that experience, both singles were certain they wanted to revisit this situation, and soon. As they continued seeing each other, both began to notice the greater depths each person possessed. Asked what wasn't fully represented in their profiles, Tiffany chooses Jason's honesty and he extolls her personality.
Asked how each other compares to their "type" as understood before meeting, Jason says Tiffany is "extremely similar" and Tiffany answers in more detail. "Jason is the male version of me, absolutely my type and so much more!"
Then, one night, something momentous happened. "Jason took me to the restaurant where we had our first date," Tiffany remembers. "He was very nervous. I did not know why at the time. Then, Jason proposed before dessert and I was speechless. I hugged and kissed him and that is when he reminded me I did not answer his question. Of course I said yes!"
Jason isn't "skeptical" any longer and in fact, he's now filled with hope for the future. "Tiffany has provided me with a wonderful future filled with love," he says. Tiffany feels fortunate too, to say the least. "Jason has made all of my dreams come true because he is my best friend. I never knew my life could be so blessed," she says.
After a lovely wedding, Jason and Tiffany became man-and-wife. They have tried to treasure ever moment together. Tiffany is still amazed it's all real. "We're about to celebrate our one-year wedding anniversary!" she exclaims.
To singles, Jason offers this reminder: "Don't give up, and never settle!"
Before we conclude this tale of coupling up via computer, Tiffany has one last thing to say. "Jason wanted me to ask you to include something I said to him on our fourth date," she adds. "I told him both of us had just gone on the last first date of our lives. I'm so happy I was right! Thanks again for making our meeting possible."
241 responses to "The Last First Date"
Leave a reply
You must be logged in to post a comment.