He Made Her Feel Like a Kid Again
Posted by Leticia, 03 Jan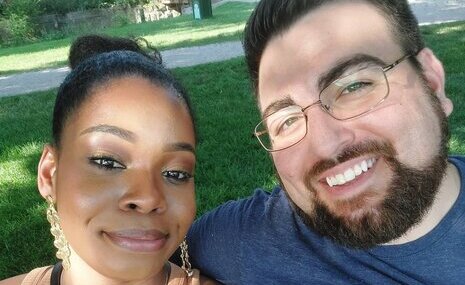 "I was in my room daydreaming of him like a teenage girl," Jade giggles as she remembers the moment she realized her budding relationship with Nathan might be special.
Let's rewind. Not so long ago, Jade signed up on our site with the username "ShadyJS," and Nathan chose the handle "Solt255." Jade says that "researching options online" convinced her to give us a try. "It wasn't my first experience online dating," she adds.
Find your soulmate on InterracialDating.com










"It wasn't my first rodeo, either," says Nathan. For him, it was "wanting to meet new people" that prompted him to pony up for a membership. Nathan says he was "hopeful" that we could help him find love.
The woman he would meet wasn't quite as optimistic, at least at the outset. "I was not very confident," admits Jade. And yet, just three months after posting her profile, she heard from Nathan (a member for one year at that point). "Nathan reached out to me first and offered to take me out on a date," Jade recalls. "It was very exciting!"
What was it about Jade's profile that caught his eye? "Her beautiful smile," Nathan chuckles. "She's just my type."
Nathan tells us that "the desire to have a one-on-one interaction," in person, is what led him to ask her out immediately. Jade was down! "I just wanted to take a leap of faith," she explains. Making her feel more comfortable with Nathan was "his military background." She says that's "because we're both veterans."
And what did these two do on Date No. 1? "We met at my local library and went to the Henry Ford Museum," Jade informs us. The first thing that stood out for her when she saw Nathan in person was, "How handsome he is. And he looked just like his pictures!"
Nathan remembers Jade's appearance making an instant impression as well. "How gorgeous she is," he says he marveled in that moment. "And I'd never felt so comfortable on a first date, either."
Jade says she was surprised by "how much of a connection we had." She was "1000% sure" she wanted to see Nathan again.
There'd be no argument from him. "It was awesome," Nathan declares. "I had to see her again!"
Now that they've been dating for a while, Jade has come to really appreciate Nathan's kind heart. "He's so thoughtful and caring," she reflects. "My type is whoever treats me well, so he fits the description!"
"I'm just so appreciative of her and those sweet moments we have," says a grateful Nathan. "I'm much happier [since meeting her]." Jade reports that "life is much more eventful" since she met Nathan.
Both singles cite the "long distance" separating them as their biggest obstacle in advancing the relationship. But as Jade found herself daydreaming about Nathan one day, she knew it was worth it. Nathan remembers the moment he reached the same conclusion. "I was in my home relaxing and reading a book that reminded me of her," he remembers.
Looking back on lessons learned, Jade comes up with this advice for other single ladies. "Sometimes you have to get out of your comfort zone and take that leap, and you just might find the right man," she says.
And for the guys? Nathan recommends a confident approach. "Don't be shy, ask her out, and be yourself," he urges all the fellas out there.
Good advice.
4 responses to "He Made Her Feel Like a Kid Again"
Leave a reply
You must be logged in to post a comment.