Biracial twins turning heads; one black, the other white
Posted by Sidney, 20 Apr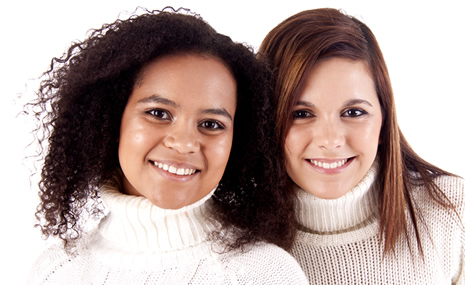 They have been mistaken for friends because of their different skin tones. But the truth of the matter is: Lucy and Maria aren't just sister; they are biracial twins.
Much as the pair are as close as twin sisters can get, Lucy is a fair-skinned red head while her sister Maria is dark skinned with curly hair. They were born to a white father (Vince) and a half-Jamaican mom (Donna). The two have been turning heads in the U.K. because they are black and white twins.
Find your soulmate on InterracialDating.com










"No-one ever believes we are twins because I am white and Maria is black. Even when we dress alike, we still don't even look like sisters, let alone twins. When we've met friends for the first time they never believe we are twins and they have even made us produce our birth certificates to prove that we are actually twins... We don't even look like we have the same parents, let alone having been born at the same time", said Lucy.
Donna was shocked at how different her twins looked after giving birth and couldn't comprehend why. "When the midwife handed us both to her, she was just speechless," said Lucy. And apparently, their personalities as different as their skin tones; Maria is outgoing while Lucy is the shy one.
"All our older brothers and sisters have a skin color which is in between Maria and I. We are at opposite ends of the spectrum and they are all somewhere in between", said Lucy.
Maria loves telling people in College that she has a white twin; Lucy is proud of her black twin.
5 responses to "Biracial twins turning heads; one black, the other white"
Leave a reply
You must be logged in to post a comment.