Why do men almost always reappear after a breakup?
Posted by Ria, 12 Oct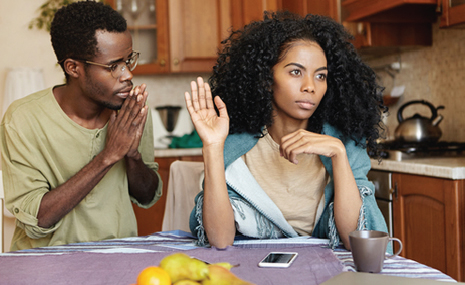 Ever been in a relationship where you broke up with a man and just when you have cried all your tears and are ready to move on he pops up again? As Mr. Spradley puts it, "We do damage, leave … and then we reappear."
Well apparently men just cant let women move on. "Any good detective will tell you that criminals who are guilty can't help but return to the scene of the crime; neither can we. When we know we've done wrong it's in our nature to reappear for a number of reasons," he says. (Yeah right)
Find your soulmate on InterracialDating.com










In his article, "The reappearing man: 4 reasons why men almost always come back" Mr. Spradley tells us why men return to the scene of the crime:
1) He just wants to show you he has changed, that he is a better man
Apparently, when this is the reason, it doesn't necessarily mean that he wants you back. Its just guilt eating him away and all he wants to do is prove to you that he aint and never was that douche-bag who hurt you. "In reality, we're really great people – really – we are – our current girlfriends can attest – we really have changed," he says.
Basically, the dude doesn't really care about what you may have gone through during the break up; he just wants to be able to sleep peacefully knowing you understand that the person who may have hurt you then, isn't the person he is now. Spradley says;"… it was us at that time in our lives or, it wasn't us at all, it was you (don't worry we forgive you). Or it wasn't us, nor was it you, it was just the 'we', that brought that out. Either way, if this is why we're reappearing, it's probably best if we just stay gone."
2) He want to see whether or not you've changed.
"The only thing better than meeting an awesome new woman is meeting an old girlfriend who now seems way more awesome than she was when you were with her." Trust me, whenever I breakup with a dude, I work towards looking much hotter so that if ever I bump into him, I'll be wearing the 'You left all this? Your loss!' look. And Spradley gives props to Facebook for rubbing this in when you upload your new photos and your ex happens to see them and you get that immediate "Its me" phone call.
Apparently when a dude becomes interested in the new, hotter looking you, its not genuine. "We want to prove to ourselves, and to you, that we didn't make a mistake the first time around. That you're not really that different, that the thing about you that always annoyed us is still there just below the glossy airbrushed surface of your new professionally taken profile pic. We want to find out whether you've been doing hella squats and that's all you back there or whether that's just an awesome camera angle," he says. All he wants to know is: Whether the new confident you real?
3) Sometimes its just him being manipulative.
This I can't put any better so am just gonna let Spradley give it to you:
"Here's a secret about some of us men I probably shouldn't be telling. Sometimes, we just want control... The thing about having that sort of control is that it makes it impossible to build any sort of lasting relationship. If we can control you, we can't respect you. We can pretend to, but, in reality we don't. The two things women reading this should take from this point are:

1) Never let a man have full control over you unless that man has married you.

2) If a man who once had that sort of control over you reappears, we probably just want to see if we still have it."
And his advice is to RUN!!! Especially if you aren't sure that the hold he once had on you is gone because you'll go through a repeat of your old life with him.
4) He has realized he lost a good thing and wants to do all he can to get it back
Apparently, of all the reasons he gives, this is a rare case. There are times when a man might leave a woman thinking he can do better without her or with the next woman only to realize, the woman left an imprint in his heart. He may have thought you'll be the only one who was gonna suffer the breakup, only to find out later that it is his loss too and no other woman, video games or beer gobbling can fill that emptiness. So he decides to swallow his pride and give it another go; crossing fingers that you'll take him back
In conclusion, Spradley has some great advice for the fellas:
"As men, I think we sometimes have to take responsibility for the damage we've done and respect the fact that our women are entitled to rebuild themselves in whatever way they see fit. We also have to be responsible about how we decide to return to their lives. We have to think about whether we are returning because we think we can 'help' them, whether we're returning because of our own selfish motives, or whether we're returning because we think there might be a real chance at a lasting "we" this time."
Guys, what happened when you tried to get a woman back into your life? Was it worth a second try? Ladies, has a man you used to date ever tried to get back with you for any of the above reasons? I am sure if it's the first three, it didn't go anywhere. Do share and add some other reasons a man would want a comeback!
30 responses to "Why do men almost always reappear after a breakup?"
Leave a reply
You must be logged in to post a comment.