Finding Him the Best Birthday Present Ever
Posted by Leticia, 23 Jun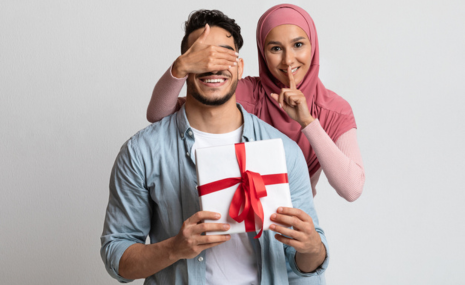 Birthdays are incredibly special, especially when it's for someone we love so much! But choosing the perfect gift for him can be a bit tricky. Don't worry, we're here to help you make his birthday the most amazing one ever! Let's dive into this guide on how to find the best birthday gift for him!
Think About His Fave Things
Find your soulmate on InterracialDating.com










First, let's think about what he loves the most! Does he have any hobbies or interests? Is he into superheroes, cars, or maybe sports? Knowing what he likes will help us find a gift that's totally his style. Maybe a cool superhero action figure or a sports jersey of his favorite team!
Make It Personal, Like Really Personal
Now, let's make his gift extra special by adding a personal touch! Think about the fun times you've had together or silly inside jokes you share. You can create a handmade card or draw a picture that shows how much he means to you. He'll love it because it's made with love!
Sneaky Hints and Wishlists
Here's a secret trick! Pay close attention to the things he talks about or the stuff he's been wanting. He might drop hints without even knowing it! Keep an ear out for those hints, and you'll discover the perfect gift he's been dreaming of. It could be a cool toy or a video game he's been talking about non-stop!
Adventures and Fun Experiences
Sometimes, the best gifts aren't things you can wrap up with paper. They're amazing experiences you can have together! Plan a surprise outing or a day full of adventures that he'll never forget. Maybe a trip to the zoo, a fun day at an amusement park, or even a picnic in the park with his favorite snacks. It'll be a day filled with laughter and love!
Ask His Best Friends and Family
When in doubt, ask the people who know him best - his friends and family! They might have some awesome ideas or know exactly what he wants. They can give you super cool suggestions that will make his birthday extra special.
Choosing the best birthday gift for him is all about showing how much you care and making him feel super loved! Remember, think about his fave things, add a personal touch, listen for sneaky hints, plan exciting adventures, and ask his close ones for help. With this guide, you'll find the perfect gift that will make his birthday the most amazing day ever! So go on, put your thinking cap on, and get ready to see his face light up with the biggest smile when he opens your super special gift!
Responses to "Finding Him the Best Birthday Present Ever"
Be the first to leave a comment
You must be logged in to post a comment.