How to Plan a Surprise Birthday Party for Her
Posted by Leticia, 29 Jun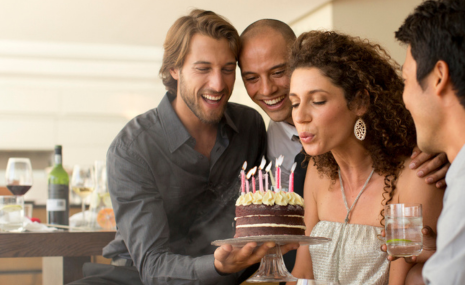 Birthdays are a special occasion to celebrate the ones we love, and what better way to show your affection than by organizing a surprise birthday party for your special woman? It's a chance to create unforgettable memories, shower her with love and appreciation, and make her feel like the queen of the day. In this article, we'll explore a step-by-step guide to help you plan a spectacular surprise birthday party that will leave her speechless and create a truly magical experience.
Step 1: Secret Planning Committee
Find your soulmate on InterracialDating.com










Form a secret planning committee consisting of close friends and family members who can help you organize the surprise. Choose individuals who can keep a secret and are enthusiastic about making the birthday celebration a success. Assign roles and responsibilities, such as decorating, managing the guest list, coordinating activities, and keeping the surprise under wraps.
Step 2: Theme and Venue Selection
Select a theme that reflects her personality and interests. Whether it's a glamorous masquerade ball, a tropical beach party, or a cozy movie night, choose a theme that will make her feel special. Consider her preferences and hobbies to make the theme truly personalized. Next, find a suitable venue that aligns with the chosen theme. It could be your home, a rented event space, or a favorite restaurant.
Step 3: Guest List and Invitations
Compile a guest list of her closest friends, family, and loved ones. Ensure you reach out to everyone discreetly to keep the surprise intact. Design creative invitations that match the theme and provide clear instructions for keeping the surprise a secret. Digital invitations or personalized hand-delivered cards can add an extra touch of excitement and anticipation.
Step 4: Decorations and Ambiance
Transform the venue into a stunning space that reflects the chosen theme. Decorate with balloons, streamers, banners, and table centerpieces that match the color scheme and ambiance. Consider incorporating personalized touches, such as photo collages, custom signs, or a memory wall with messages from loved ones. Lighting and music can also enhance the atmosphere, so choose appropriate playlists or even hire a DJ.
Step 5: Food, Drinks, and Cake
Plan a menu that caters to her favorite dishes, snacks, and treats. Consider any dietary preferences or restrictions of the guests. If you're not confident in your culinary skills, explore catering options or ask for assistance from family and friends who enjoy cooking. Don't forget a show-stopping birthday cake that matches the theme and showcases her unique style. Consider surprises within the cake, such as a hidden message or her favorite flavors.
Step 6: Entertainment and Activities
Keep the party lively and engaging with fun activities and entertainment. Hire a live band, DJ, or create a personalized playlist to get everyone dancing. Organize interactive games, photo booths, or even a surprise performance by friends or family members. Consider her interests when planning activities to ensure she'll enjoy every moment.
Step 7: The Big Surprise
As the party approaches, coordinate with the planning committee to ensure everyone is in place and ready to surprise her. Make sure she has a reason to attend the event without suspecting the surprise, such as planning a fake outing or gathering. Keep communication discreet and ensure everyone knows their roles to maintain the element of surprise until the big reveal.
Planning a surprise birthday party for her requires careful coordination, attention to detail, and a whole lot of love. By forming a secret planning committee, selecting a theme and venue, managing the guest list, designing creative invitations, creating a stunning ambiance, organizing delicious food and entertainment, and executing the big surprise, you'll orchestrate a spectacular celebration that she'll cherish forever. Remember, the joy and excitement of a surprise birthday party comes is reflected in the effort you put into it.
Responses to "How to Plan a Surprise Birthday Party for Her"
Be the first to leave a comment
You must be logged in to post a comment.