Is it possible to combat racial fetishization on dating sites?
Posted by Sidney, 26 Jul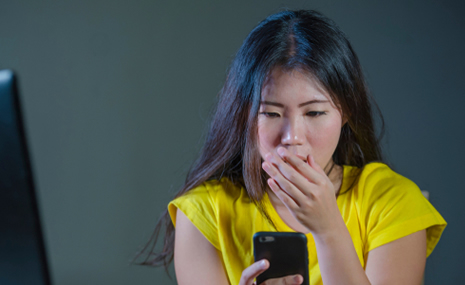 "I'm ready to dip into some chocolate. Is it true that once you go Black you never go back?"
This the notification that 23-year-old, Autumn, was bombarded with when her phone. You guessed right. It was a message notification from an online dating site. One thing is that there is a fine line between fetishizing messages and compliments.
Find your soulmate on InterracialDating.com










Yes, there are those messages that are overtly sexual messages. But then there are also those microaggressions that are disguised as compliments. Most colored women - and some men - have had to deal with racial fetishization on dating sites and apps. The rise in interracial dating sites has positively contributed to the rise in interracial relationships. Unfortunately, these are also the same venues where some members of minority groups are likely to face discrimination in their search for romantic relationships.
So it seems that both positive and negative interactions can be a result of increased interracial communication and contact. Much as there are those who might blatantly show their racism, there is the kind of racism perpetuated under the disguise of wanting to explore the 'exotic'.
How does it feel like to fetishized online?
Here is what a few ladies tell Bustle:
One thing that makes fetishization different from other forms of discrimination is that it takes advantage of the idea of "positive bias" making one's race, body features or any other attributes be something to be desired.
No matter how 'positive' the bias is, according to Ivanna C. Rodriguez-Rojas who is a Cuban-Mexican artist and author of Fetishization for Dummies: Columbia Edition, being fetishized feels like "your existence is seen as a trivial yet alluring prize, or worse, something that needs to be saved and conquered."
29-year-old Tiffany says she gets fetishized because of the stereotype that Asian women are docile and submissive. And after going on dates and then men realize that being docile and submissive is not her personality, she 'typically gets ghosted'.
Megan, 29, an Irish and Latina digital content creator and fat activist says, "You immediately feel like you are no longer a personality — you are just a thing."
Now, we all call this 'positive bias' having a preference. The big question is:Is it wrong to have a preference? What constitutes a preference?
Dating is one of the few aspects of our lives where you are kind of free to say "I am not into this race" OR "I like him because he is... (this particular race).
Much as there are sites that do not set the racial preference choice, apparently it a relevant tool especially for black users globally - it shows diversity and inclusivity. Race filters benefit people of color and indigenous groups because it assist them to search for partners with similar cultural experiences and background.
According to Dr. Keon West, social psychologist and author of paper "Interethnic Bias in Willingness to Engage in Casual Sex Versus Committed Relationships", racial filters don't help people of color in reality especially when it comes to committed relationships saying:
"I understand the argument that some ethnic minorities might prefer to only date members of their own race due to shared experiences of racism/discrimination, but the data shows that that's not what happens in real life. In real life, ethnic minorities are more open to dating interracially, and white people are less so."
Do the filters encourage discrimination and biases?
Not according to West. Even without the racial filters, users still bring racial biases to the table. Much as there may not be racial filters, some dating site algorithms encourage biases. Here is how it happens. If you once liked a certain type of person, then that "type" of people is what you will be shown.
For committed relationships, minorities are less desirable compared to being sought for casual sex. So if they are seen as a potential hookup as opposed to a potential partner, then this perpetuates the idea that ethnic minorities are just but an experience... a type.
Over-sexualization of people of color online is heightened because there's less accountability than with the in-person dating scenario.
"The internet provides a level of safety for harassers since they know their actions will probably not have negative consequences (for them, at least)," Rodriguez-Rojas says. The men get to say whatever they want on dating sites with no consequence.
Chances are if someone has fetishized you, they are probably doing the same to many more.
How can we combat fetishization and racism on dating sites?
First, we need to be aware of it when it happens and report messages from users that are fetishizing or discriminatory. But that is not all. Dating sites should also make sure that such users don't get to do it again by canceling their membership and ensuring that such users are banned from the site.
The problem is, how severe is a report treated by the site and the user? The responsibility of combating racism lies on both the users and the dating site or app. Users need to confront their racial preferences and sites should try to have algorithms that promote racial equity.
One lady, Tiffany proposed the removal of profile pictures so that people choose each other based on personality like the TV show Love Is Blind.
What is your take on this?
15 responses to "Is it possible to combat racial fetishization on dating sites?"
Leave a reply
You must be logged in to post a comment.