Coronavirus claustrophobia! Will your relationship survive being crumpled up together?
Posted by Sidney, 27 Apr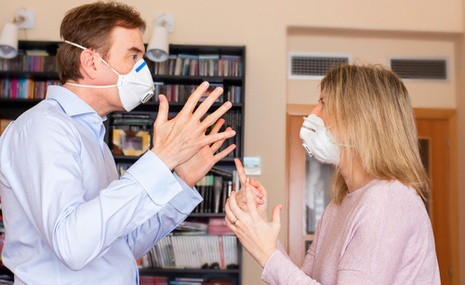 Why does he chew that loud? Does she have to use this much toilet paper? Well, chances are nothing has changed. You are just one of those couples who have no choice but to self-isolate together during this pandemic. His loud chewing was probably worse before. Your spouse has probably made an effort to tone down some of their bad habits.
The togetherness of this pandemic seems to have heightened all our senses. Our hearing, sense of smell, eyesight suddenly seem to have become 10 times better! Spouses have been forced to spend hours with the same human under the same surroundings. They now have to do figure out how to do all things in these same surroundings and still figure out how to stay sane being stuck with the same humans in some small space…
Find your soulmate on InterracialDating.com










"I need some more air" "I need some space". I am sure most people are now self-diagnosing themselves with claustrophobia.
Is this opportunity of 'forced' together time healthy or harmful for couples?
Some might argue that this is good because now couples who are stuck together can now hash out those issues that they may have been sweeping under the rag. That said, we can't run away from the fact that this constant lashing out has two outcomes. A couple might actually fix these issues or it ends up becoming a pressure-cooker scenario where the pressure becomes too much then "poooof!"
Then there is the anxiety that is making couples take their anxiety out on one another. So if you were in a shaky relationship, this pressure of trying to stay safe might add more tension. So if you had issues dealing with the stresses of your relationship, the stress of being stuck together and not being able to shake your partner off will definitely make the relationship spiral downwards much faster.
Did you know that after COVID-19 cases began to subside in China and people could leave their houses, they reported a sudden surge in divorce filings? And apparently there has been a rise in domestic violence cases during self-isolation.
Are marriages disintegrating because of the togetherness of the pandemic?
To be honest the tension is heightened. Children not in school but still schooling. Having to play parent and teacher at the same time. Financial wars because of loss of income… Add the fear of one of the family member getting infected and the uncertainty of how long this social isolation will go for to all that tension and more…
Even some of the couples who had great relationships before COVID- 19 are crumbling under the pressure.
So how can relationships survive? How do you miss someone when they can't even leave? Tune in next time as we bring you what some relationship experts advice.
1 responses to "Coronavirus claustrophobia! Will your relationship survive being crumpled up together?"
Leave a reply
You must be logged in to post a comment.