Five Easy Ways to Keep the Romance
Posted by Leticia, 28 Jun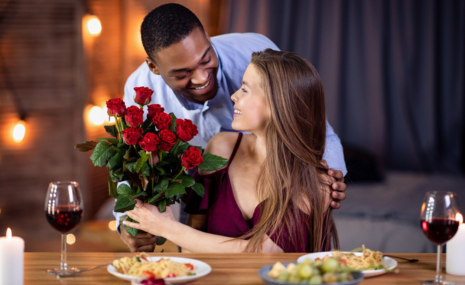 Who says love needs to be solemn and proper? Maintaining the spark in your relationship may be a fun and thrilling journey! Here we will show you some fascinating and enjoyable techniques to keep the romance alive and make sure your relationship is joyful and vibrant. So let's get started and let the fun begin in your relationship!
Plan Surprise Adventure Dates
Find your soulmate on InterracialDating.com










Break away from the ordinary and surprise your partner with adventurous and unexpected dates. How about a spontaneous road trip to a nearby town? Or a picnic under the stars in your own backyard? The element of surprise and adventure will inject excitement into your relationship, creating memorable moments and deepening your connection.
Have Theme Nights
Spice up your routine with fun theme nights! Create a theme like "Movie Marathon Madness" where you watch your favorite films while cuddled up on the couch, or compete in a "Culinary Challenge" where you both cook a new recipe together. Let your creativity run wild and enjoy the laughter and shared experiences that come with these playful themed nights.
Playful Pranks and Silly Surprises
Don't be afraid to inject a little mischief into your relationship! Plan playful pranks or surprise your partner with silly gestures that will make them laugh. Leave funny notes hidden in unexpected places, like their lunchbox or inside their shoes. Keeping the laughter alive is a surefire way to keep the romance bubbling.
Take Dance Lessons
Turn up the heat and add some sizzling moves to your relationship! Sign up for dance lessons together, whether it's salsa, ballroom, or even hip-hop. Dancing is not only a fun and romantic activity but also a chance to bond physically and embrace your playful side.
Create a Bucket List
Sit down together and create a bucket list of exciting and adventurous activities you want to experience as a couple. Skydiving, hot air balloon rides, or learning a new water sport—let your imagination soar! Tackling these bucket list items will fill your relationship with anticipation and a sense of shared accomplishment.
It doesn't have to be all business to maintain the romance. Adopt a playful attitude and add excitement, surprises, and playfulness to your relationship. There are countless ways to stimulate a romantic relationship, including themed nights, amusing pranks, and dance lessons. It's important to keep in mind that your relationship will remain strong and your hearts connected if you often share moments of joy, laughing, and adventure. So go ahead and let the fun and the sparks fly in your relationship!
Responses to "Five Easy Ways to Keep the Romance"
Be the first to leave a comment
You must be logged in to post a comment.